The Path to Excellence Begins Here
Thank you for considering investing in your children's education with Pulaski Academy. We are committed to providing the best possible educational experience for your family. We have several payment options including one payment, three payments, and eleven monthly payments through FACTS management. We strive to make Pulaski Academy affordable for as many families as possible. Please connect with Gregg Ledbetter, our Head of Enrollment and Financial Aid, to learn more about financial assistance.

Gregg Ledbetter
Head of Enrollment and Financial Aid
[email protected]
---
2023-2024 Tuition
To download a copy of the tuition sheet, please visit the button below.
Download Tuition Sheet
---
Affording a PA Education
Interested in joining PA but hesitant about the tuition cost? Learn more about how to get started from PA's Head of Enrollment and Financial Aid, Gregg Ledbetter, and read about a few of our PA parent stories within our school community!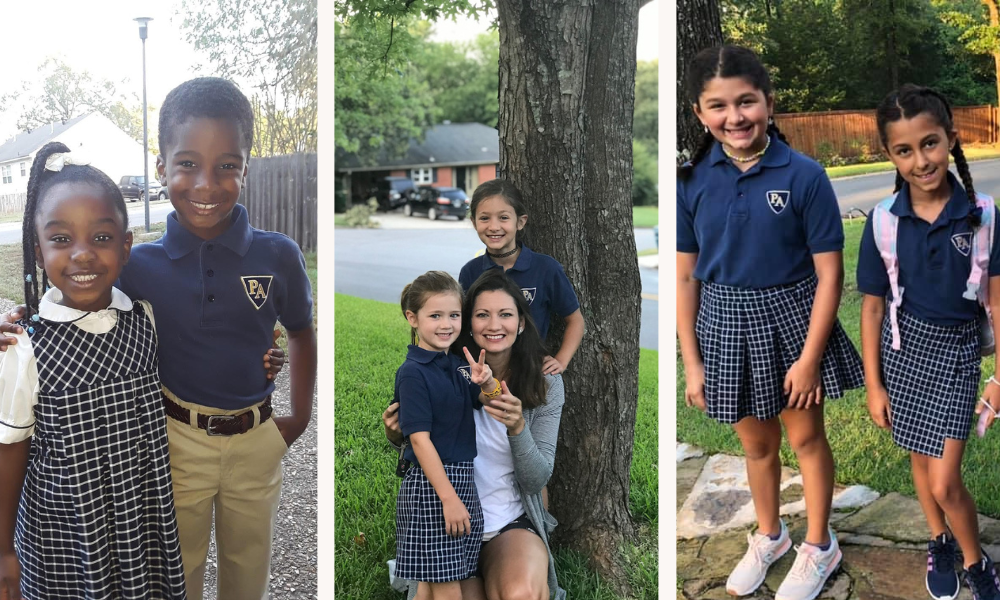 Affording a PA Education
---
Is Financial Assistance Right for Your Family?
At Pulaski Academy, we encourage every family to explore how to make a PA education affordable.
We understand that the cost of attending an independent school requires making a significant investment in your child's education and future. Recognizing that every situation is unique, we are committed to working with each family to find ways of making a PA education a reality.
Pulaski Academy offers financial aid to qualified students based on demonstrated need. Demonstrated need is defined most simply as the difference between the school's tuition and what the family can reasonably afford to pay. In order to determine the amount a family can reasonably pay for tuition, Pulaski Academy uses the analysis of an outside, objective service called School and Student Services (SSS) based in Randolph, MA.
Financial Aid
---
Interested in Learning More About PA?
We'd love to send you our Admissions Viewbook The Path to Excellence!
Download our Admissions Viewbook, The Path to Excellence
Download Viewbook
---
Learn More About
FACTS is a convenient, online method to set up a payment plan for Pulaski Academy.
The plans listed below are offered by PA.

Monthly Payments:
Spread your tuition balance over monthly installments
Eleven monthly payments beginning in July 2021 and continuing monthly through May 2022
Payment Methods Offered: Credit Card or Automatic Bank Draft
3 Payments:
Pay your tuition in three installments
Three payments due June 19, 2021, October 19, 2021, and February 19, 2022
Payment Methods Offered: Credit Card or Automatic Bank Draft
Payment in Full:
FACTS is a quick, secure method for paying your tuition balance in full
One payment in full due by June 19, 2021
Payment Methods Offered: Credit Card or Automatic Bank Draft
To learn more about FACTS and create or sign in to your account, visit this page.
Arkansas state legislators have amended the Arkansas Tax-Deferred Tuition Savings Program Act to allow Section 529 Plans to be used to pay tuition at K-12 private schools. The Arkansas measure allows a $5,000 (individual) or $10,000 (married, filing jointly) deduction for contributions to 529 Plans. A 529 plan (named after its section of the IRS code) is an investment account offering tax breaks that allows you to set aside money for K-12 tuition only.
Contact your CPA or Financial Advisor for information about how a 529 plan could provide you a beneficial way to pay a portion of your tuition.
After School & Early Morning Care
AFTER SCHOOL CARE
The Extended Day program is an after school childcare service offered to students in our Cubs program through eighth grade. During this extended time of the school day, students learn, explore and play with age-appropriate themed activities, arts & crafts, games, and outdoor experiences. Lower School and Middle School students also have guided study.
Extended Day Parent Guide 2020-2021
EARLY MORNING CARE
The Early Morning Care program serves Early Childhood and Lower School students from 7:00 am until 7:35 am each school day. Students enjoy free playtime with their friends and a special storytime each day.
We are now accepting applications for the upcoming school year. Applications must be submitted online. Doing so will allow you to submit documents faster and monitor the status of your application.
You can submit your application by following the steps on this page.
The Pulaski Academy After School Extras are enrichment-designed courses for Early Childhood, Lower and Middle School students. These classes allow students to pursue and expand their special interests as well as enhance the existing curriculum.

To register for our After School Extras, visit this page.
In 2019, Pulaski Academy introduced the Continuous Enrollment contract to all Bruin families. This simplified process allows PA families to enroll their child at PA until graduation or withdrawal with a one-time agreement. If a family chooses not to return to PA the next school year, a parent or guardian must complete the Opt-Out Form on or before January 31.

To learn more about Continuous Enrollment, visit this page.
Pulaski Academy is proud to partner with SAGE Dining Services®. SAGE, established in 1990, is the leading food service provider for independent schools and colleges throughout North America. SAGE's unparalleled expertise in nutrition, sustainability, and culinary trends produces exceptional dining experiences that delight the senses, inspire minds, and foster community.
To learn more about SAGE, view our online menu, and create your student's MyKidsSpending account, visit this page.
Scholarship Opportunities
Community OutReach Scholars Program
In addition to financial aid options, the Pulaski Academy Community OutReach Scholars Program offers tuition assistance for new students entering grades 6th-12th to attend Pulaski Academy.

The goal of the COR Scholars Program is to attract outstanding students to Pulaski Academy; students who are extraordinary leaders and scholars with outstanding character. Individual merit in these three areas and a demonstrated financial need are the criteria for selection.
To learn more about the COR Scholars Program, visit this page.
---
Scholars Program
Pulaski Academy offers several scholarships that have been made available to students who meet specific criteria for each. These scholarships offer outstanding students the opportunity to receive an excellent education, to have their academic and creative talents nurtured, and to flourish in a learning community they might otherwise never experience.
To learn more about the Malone Scholarship, the Lindell Scholarship, and the Connor scholarship, visit our Scholars Program page.
Pulaski Academy offers transportation services in close proximity to the campus in West Little Rock.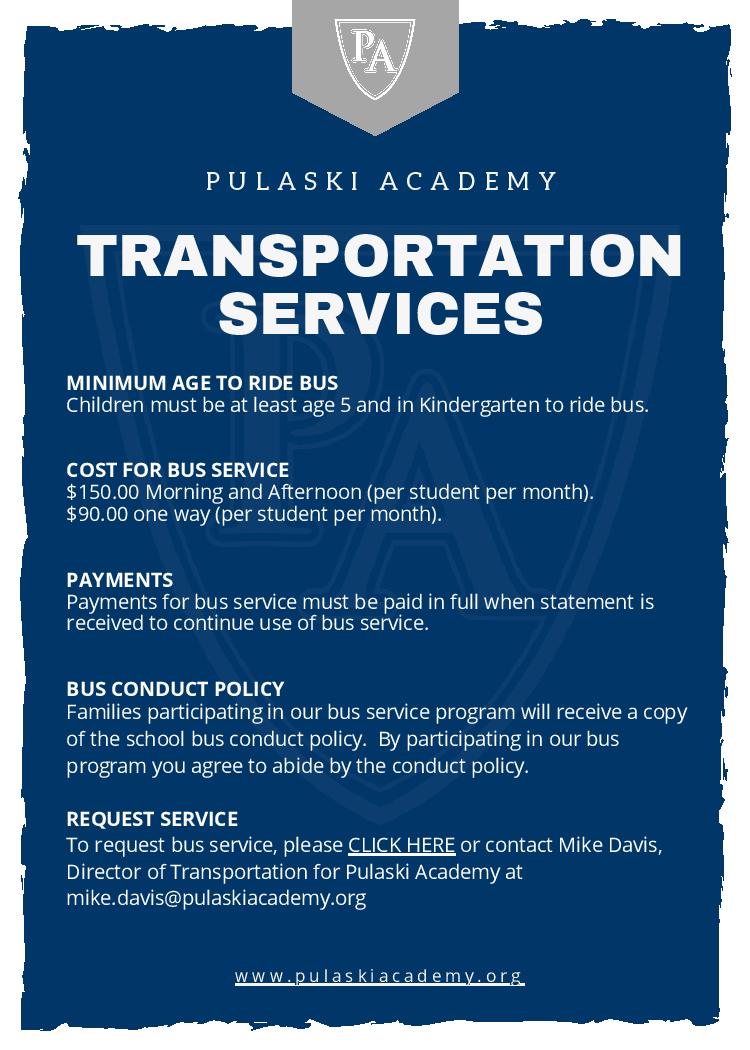 Download Transportation Services Document