24 Student Thesis Projects
Thank you for your support in this year's Honors Thesis class!
The Honors Thesis class is designed for seniors interested in engaging in intense research and writing on a topic of their choice. Working in close consultation with instructor Bill Topich, students produce a major paper over the course of the school year, infusing thorough research, data analysis, personal interviews, and policy recommendations. The focus of the Honors Thesis is on research methodology as well as organizational skills and time management, preparing students for the challenges of writing and research at the collegiate level. The course culminates in individual student presentations, which are taking place in a virtual Google Meet format.
---
Monday, April 19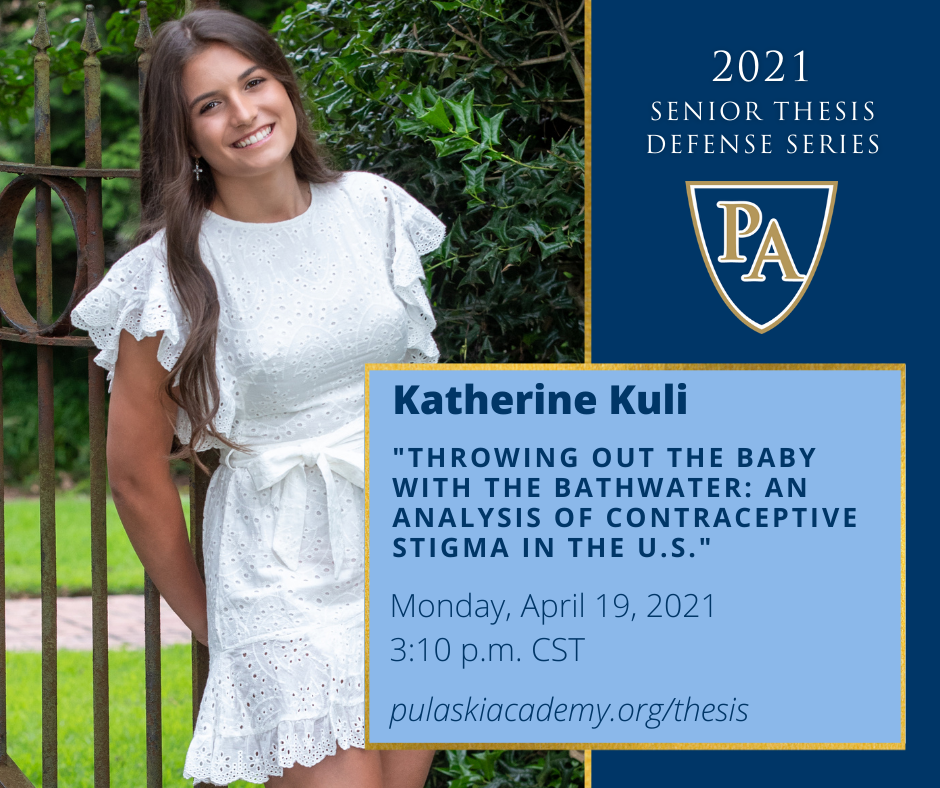 3:10 p.m. CST – Katherine Kuli, "Throwing out the Baby with the Bathwater: An Analysis of Contraceptive Stigma in the U.S."


3:50 p.m. CST – Heba Ahmed, "Miscarriage of Justice: Wrongful Convictions in the American Criminal Justice System"
Tuesday, April 20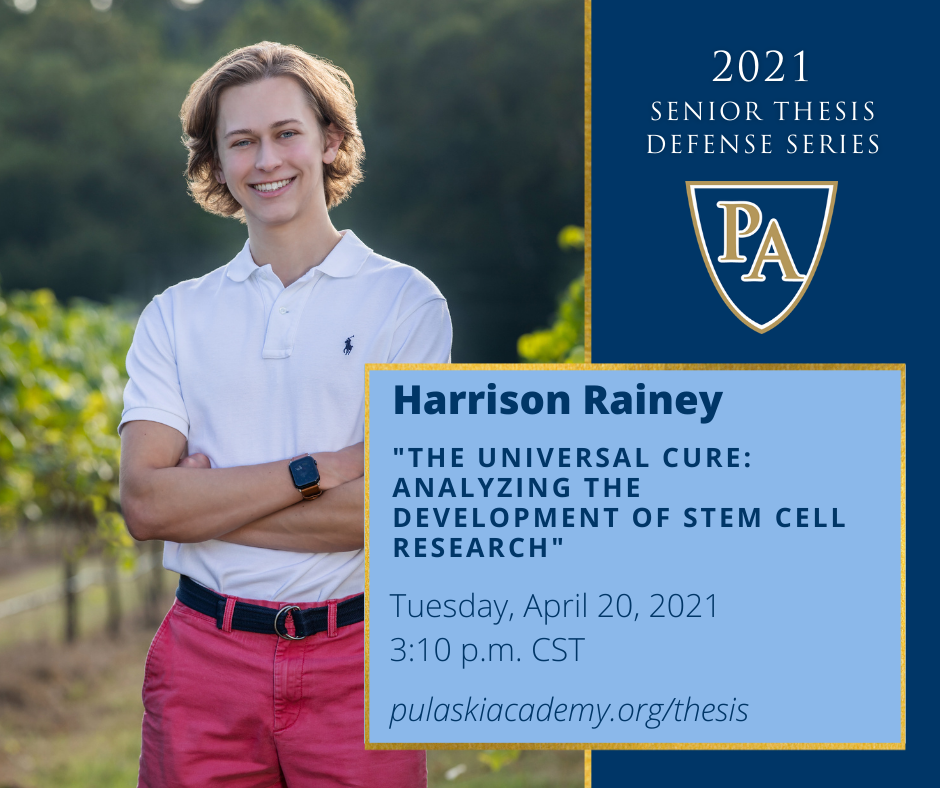 3:10 p.m. CST – Harrison Rainey, "The Universal Cure: Analyzing the Development of Stem Cell Research"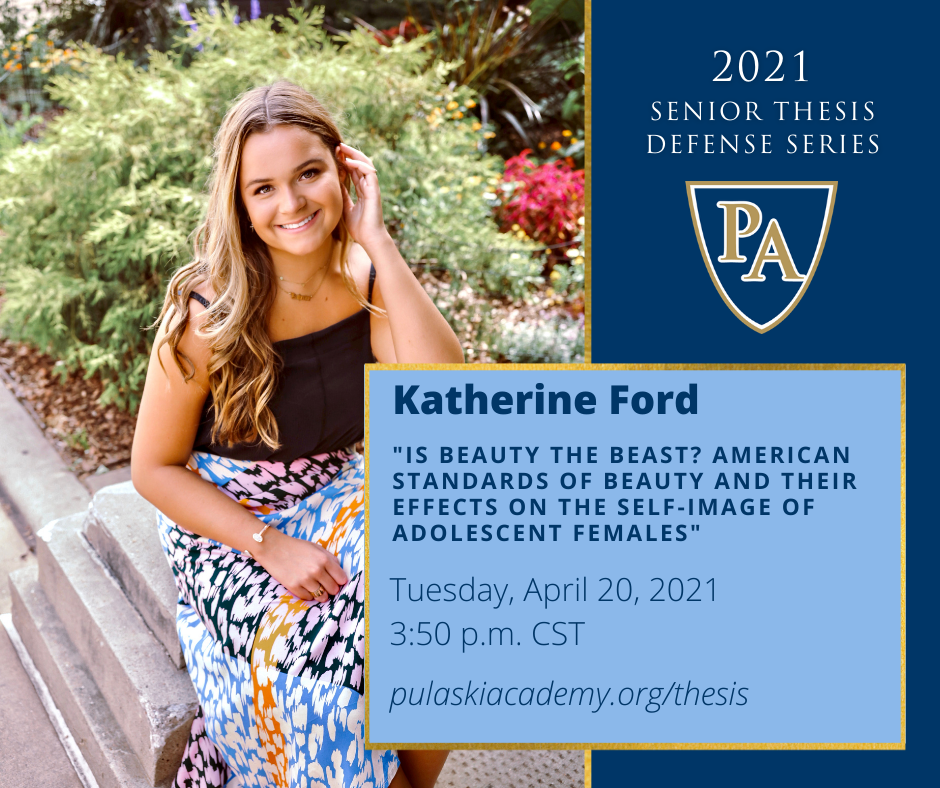 3:50 p.m. CST – Katherine Ford, "Is Beauty the Beast? American Standards of Beauty and Their Effects on the Self-Image of Adolescent Females"
Wednesday, April 21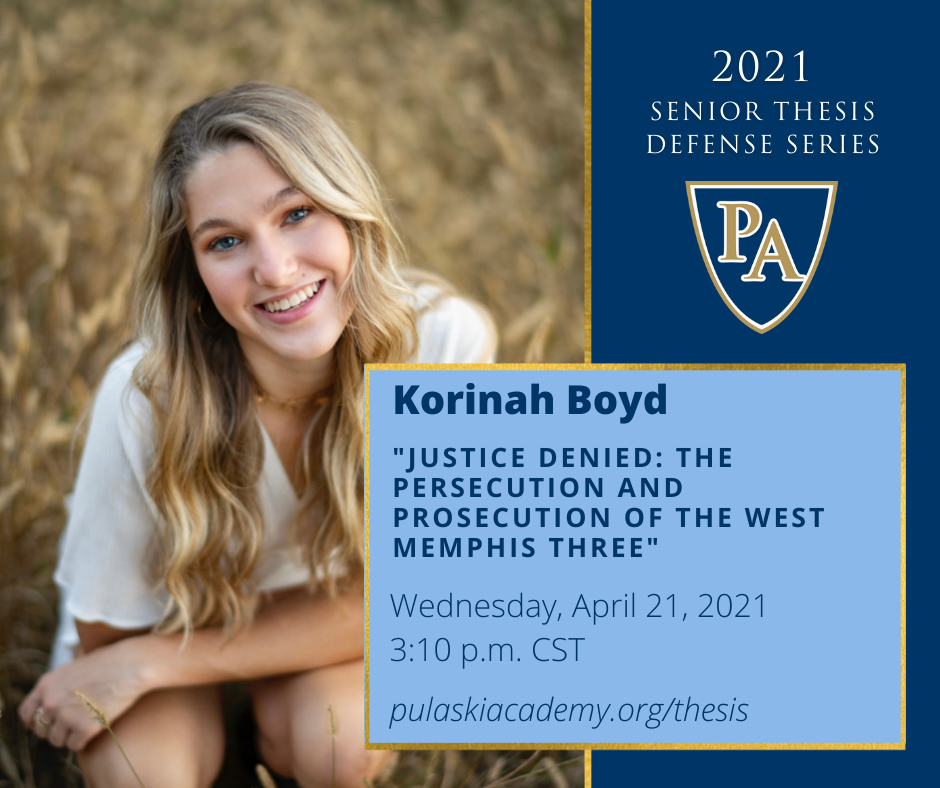 3:10 p.m. CST – Korinah Boyd, "Justice Denied: The Persecution and Prosecution of the West Memphis Three"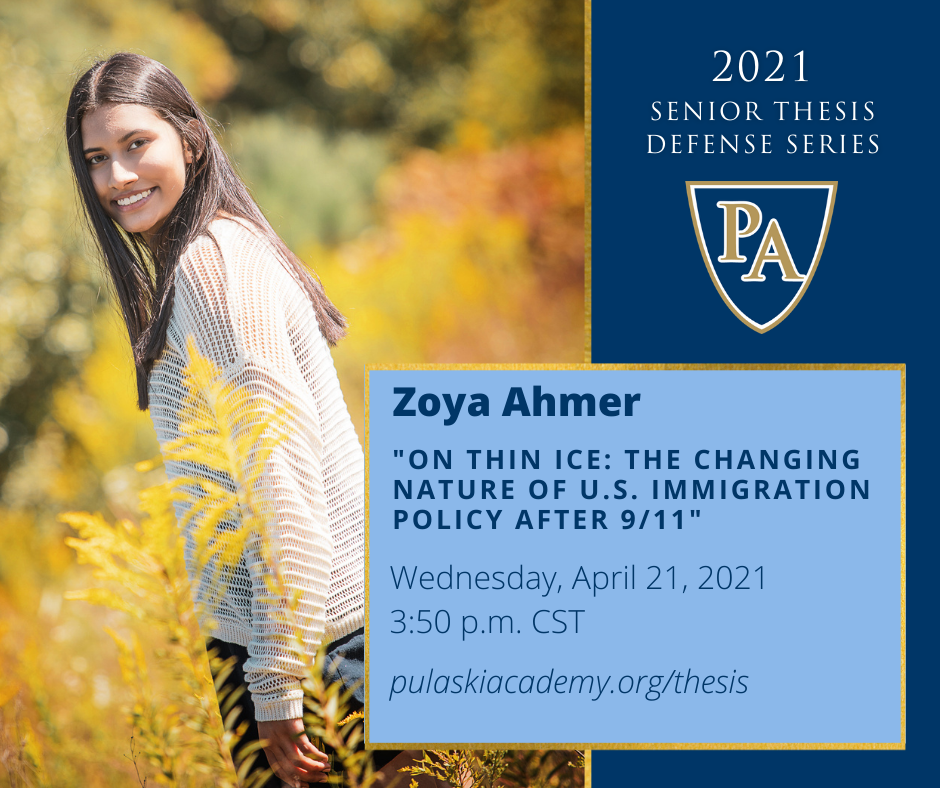 3:50 p.m. CST – Zoya Ahmer, "On Thin ICE: The Changing Nature of U.S. Immigration Policy After 9/11"
Thursday, April 22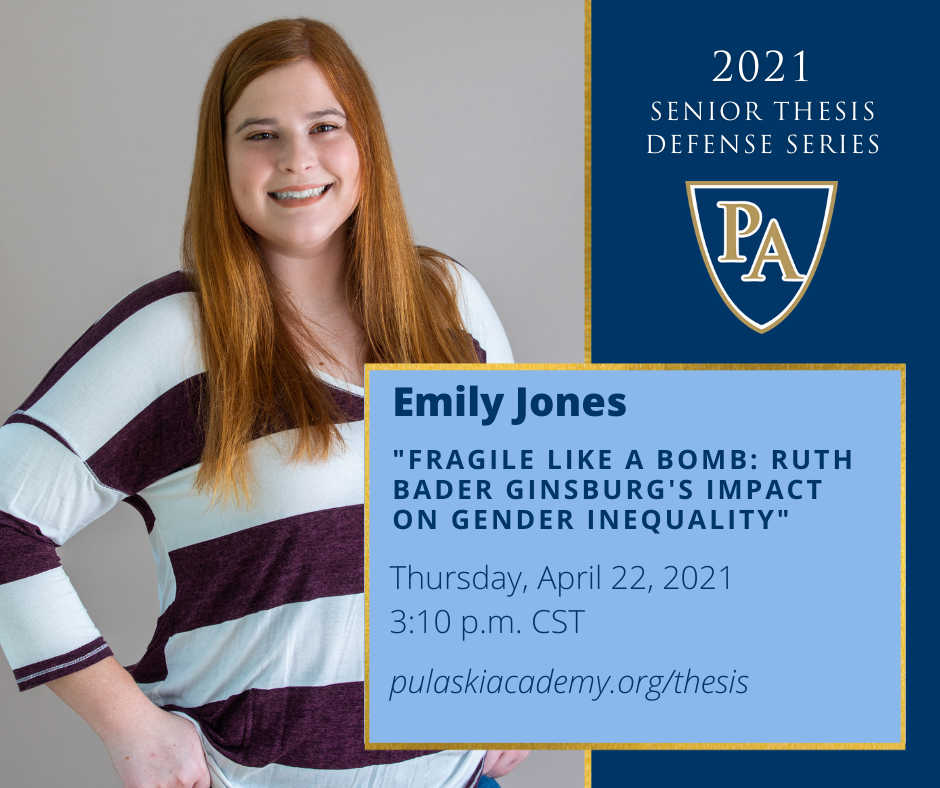 3:10 p.m. CST – Emily Jones, "Fragile Like a Bomb: Ruth Bader Ginsburg's Impact on Gender Inequality"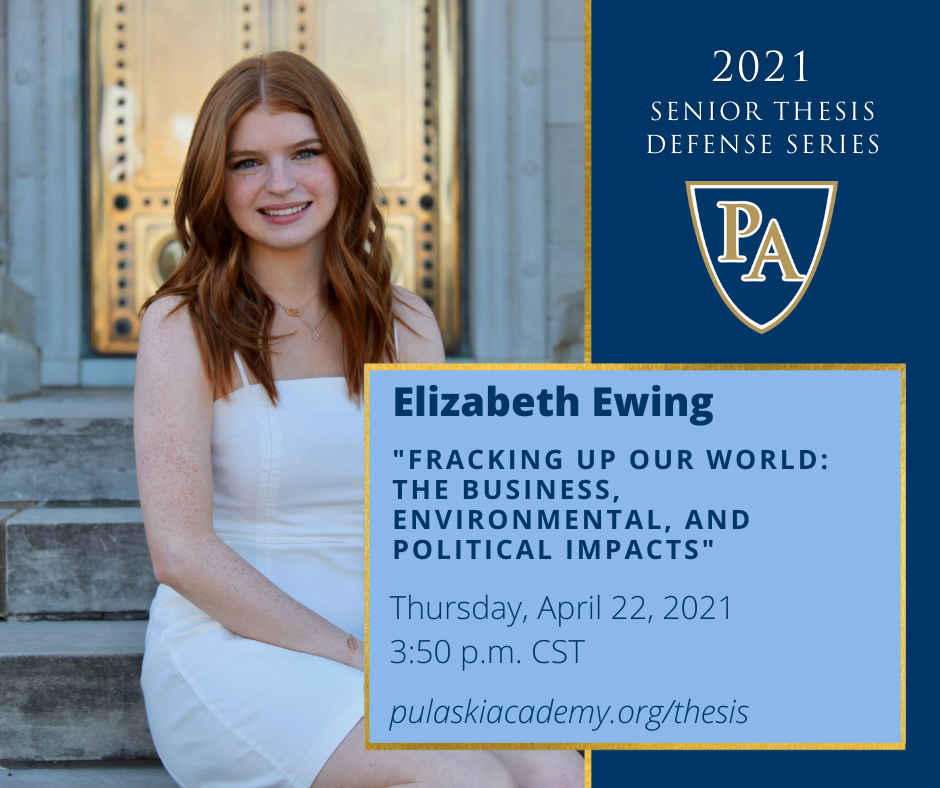 3:50 p.m. CST – Elizabeth Ewing, "Fracking Up Our World: The Business, Environmental, and Political Impacts"
Friday, April 23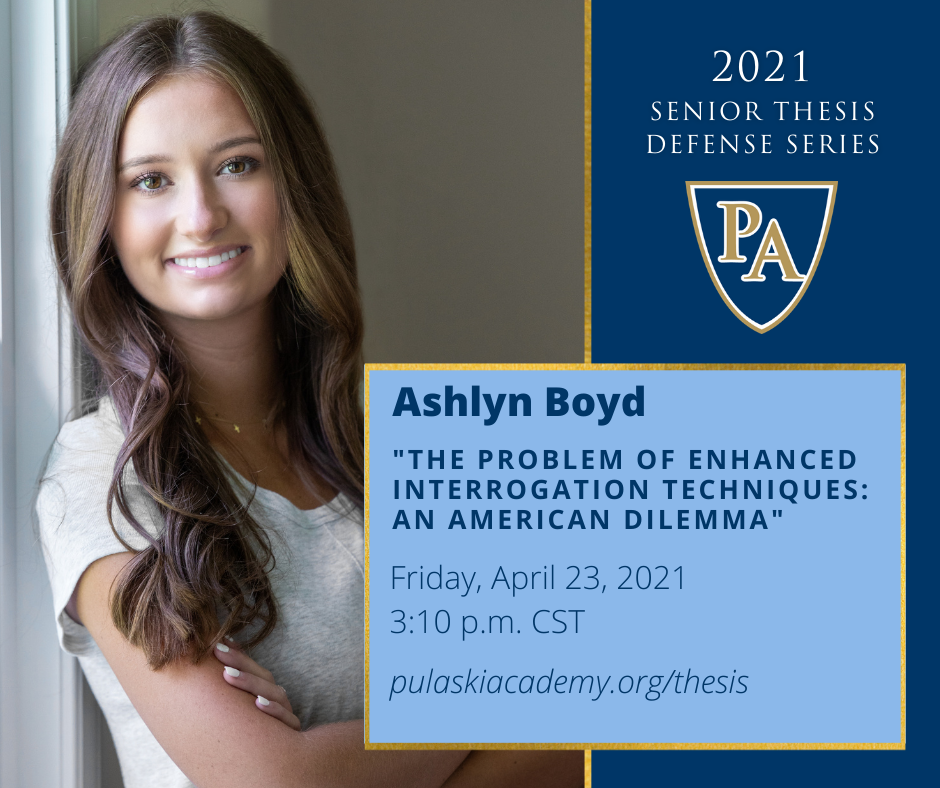 3:10 p.m. CST – Ashlyn Boyd, "The Problem of Enhanced Interrogation Techniques: An American Dilemma"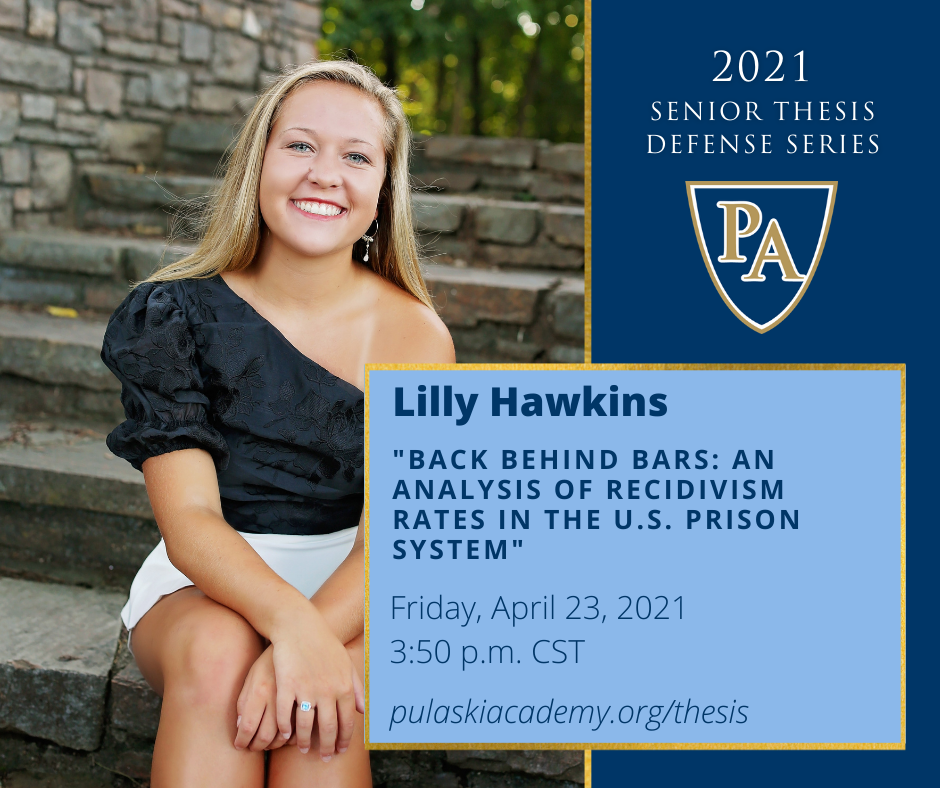 3:50 p.m. CST – Lilly Hawkins, "Back Behind Bars: An Analysis of Recidivism Rates in the U.S. Prison System"
Monday, April 26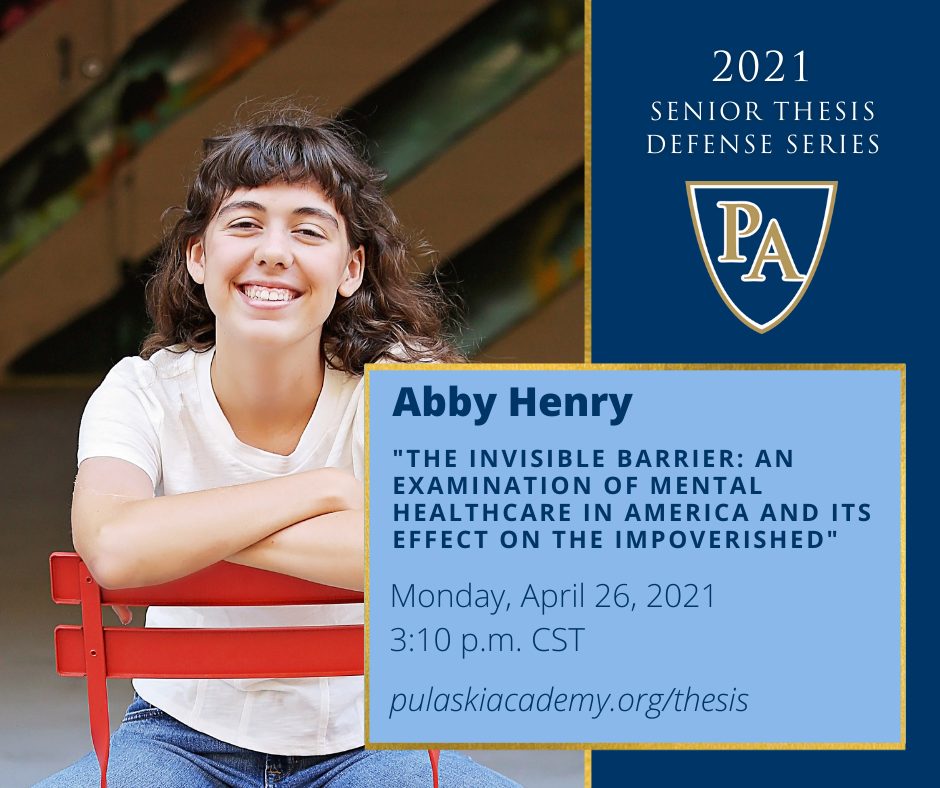 3:10 p.m. CST – Abby Henry, "The Invisible Barrier: An Examination of Mental Healthcare in America and Its Effect on the Impoverished"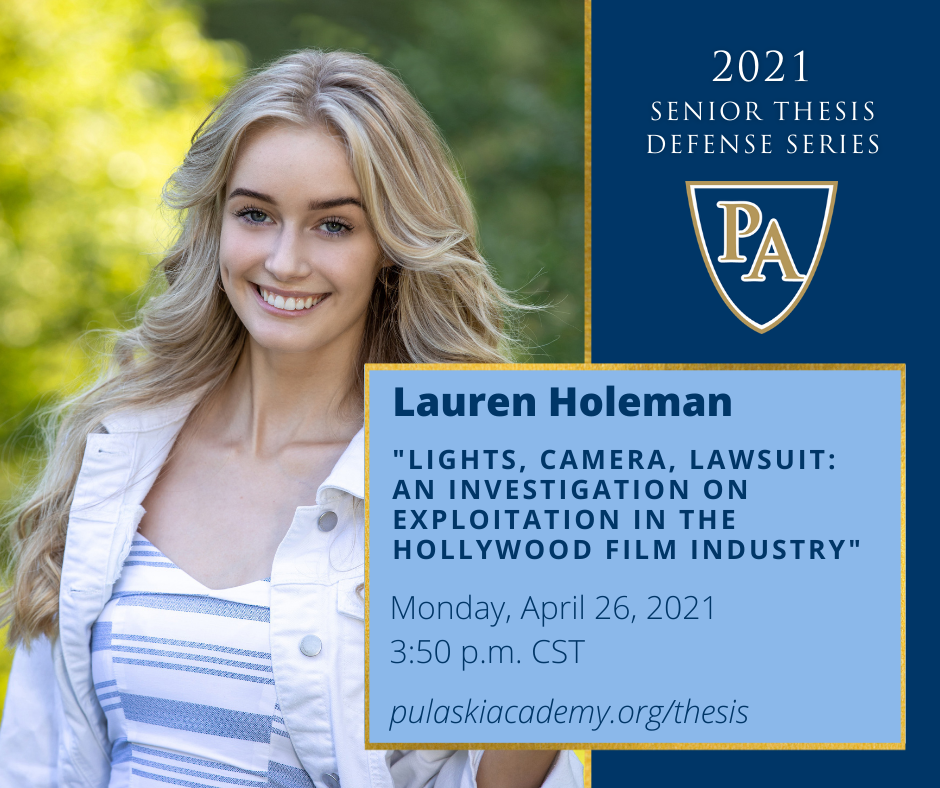 3:50 p.m. CST – Lauren Holeman, "Lights, Camera, Lawsuit: An Investigation on Exploitation in the Hollywood Film Industry"
Tuesday, April 27

3:10 p.m. CST – Abby Patterson, "Daring to Dope: The Use of Performance-Enhancing Drugs in Professional Athletics"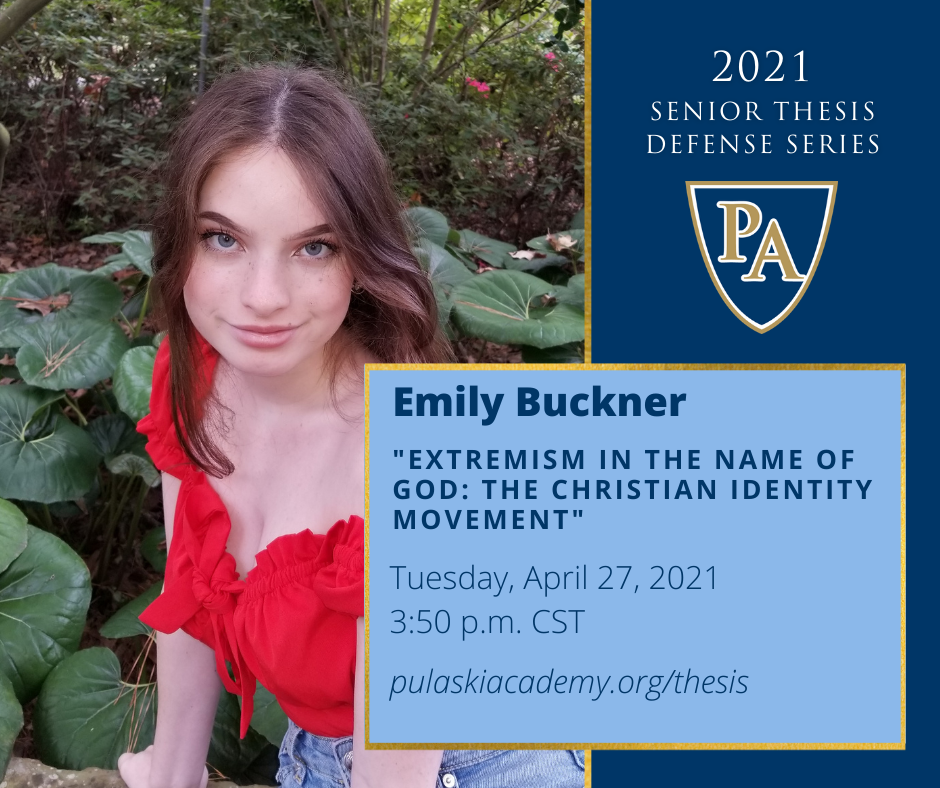 3:50 p.m. CST – Emily Buckner, "Extremism in the Name of God: The Christian Identity Movement"
Wednesday, April 28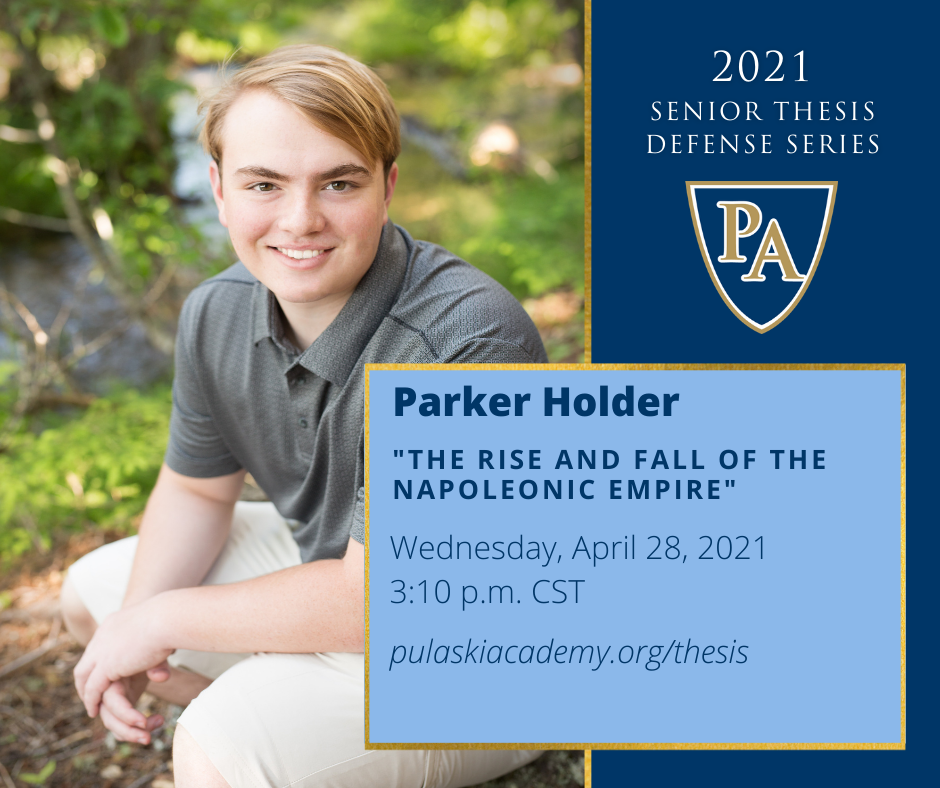 3:10 p.m. CST – Parker Holder, "The Rise and Fall of the Napoleonic Empire"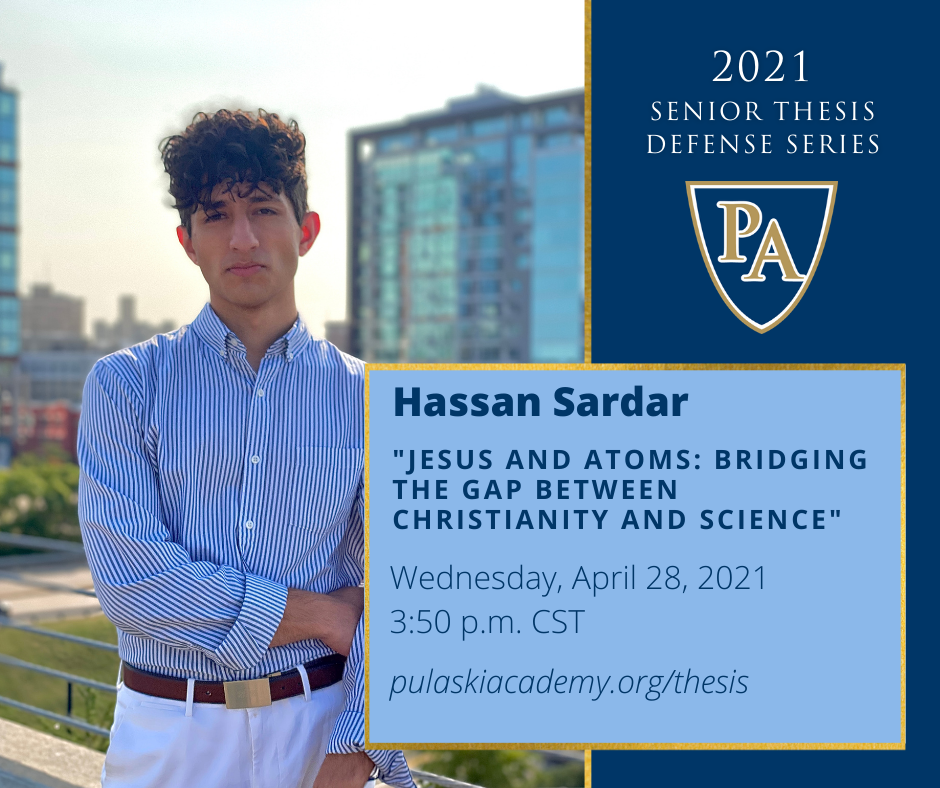 3:50 p.m. CST – Hassan Sardar, "Jesus and Atoms: Bridging the Gap Between Christianity and Science"
Thursday, April 29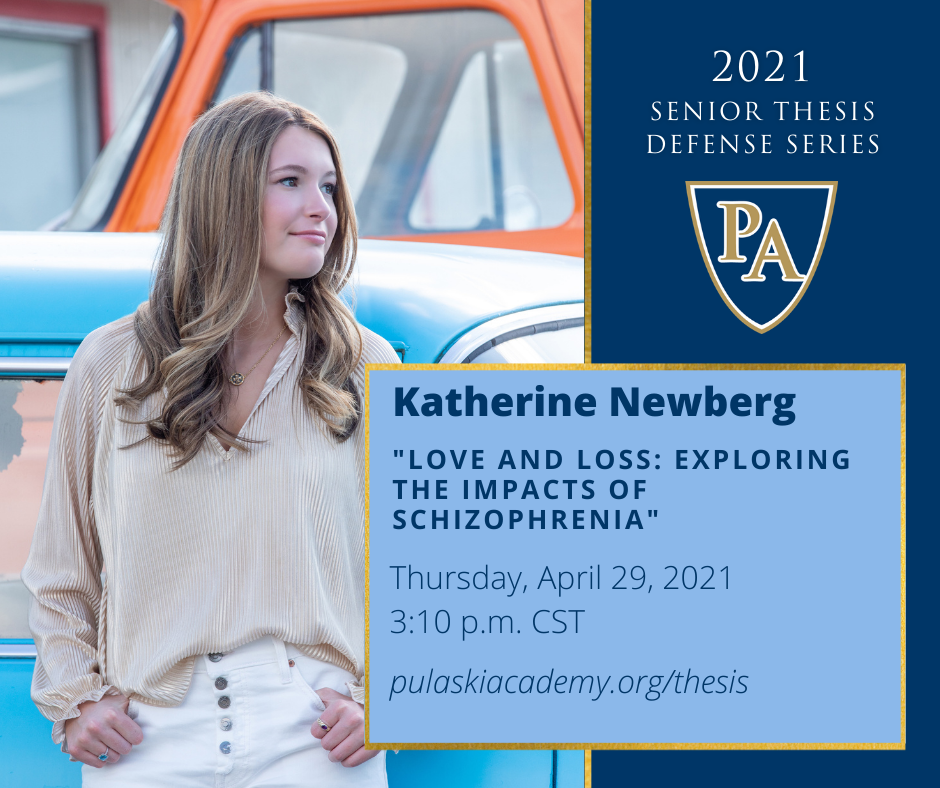 3:10 p.m. CST – Katherine Newberg, "Love and Loss: Exploring the Impacts of Schizophrenia"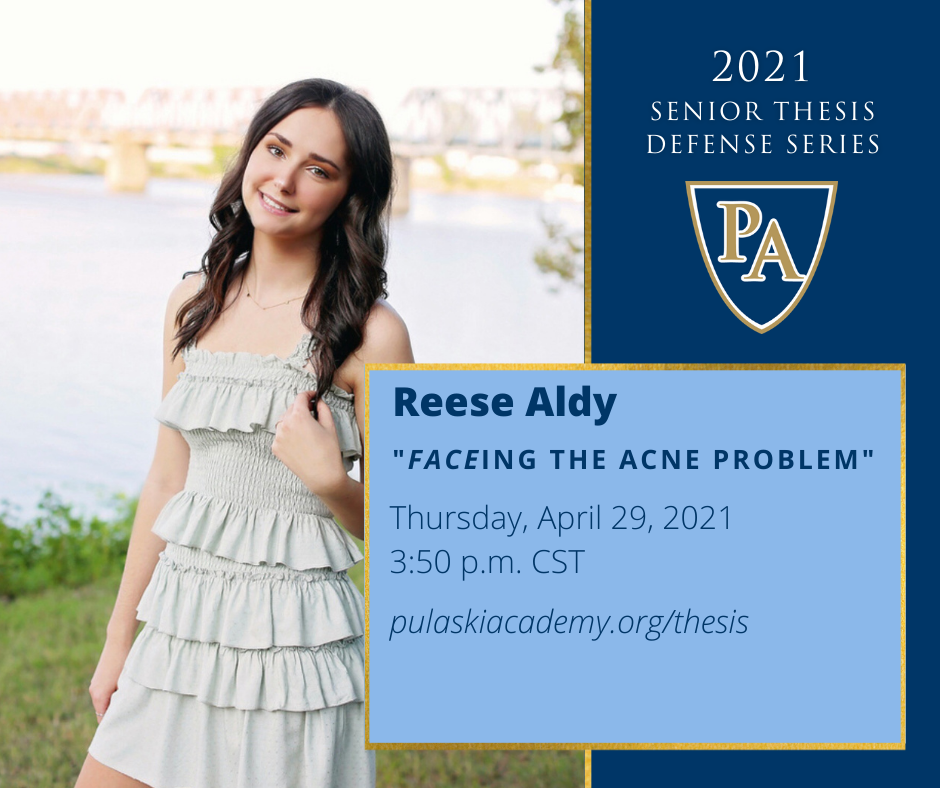 3:50 p.m. CST – Reese Aldy, "FACEing the Acne Problem"
Friday, April 30

3:10 p.m. CST – Maddie Brewster, "Depression in Women: A Modern Crisis"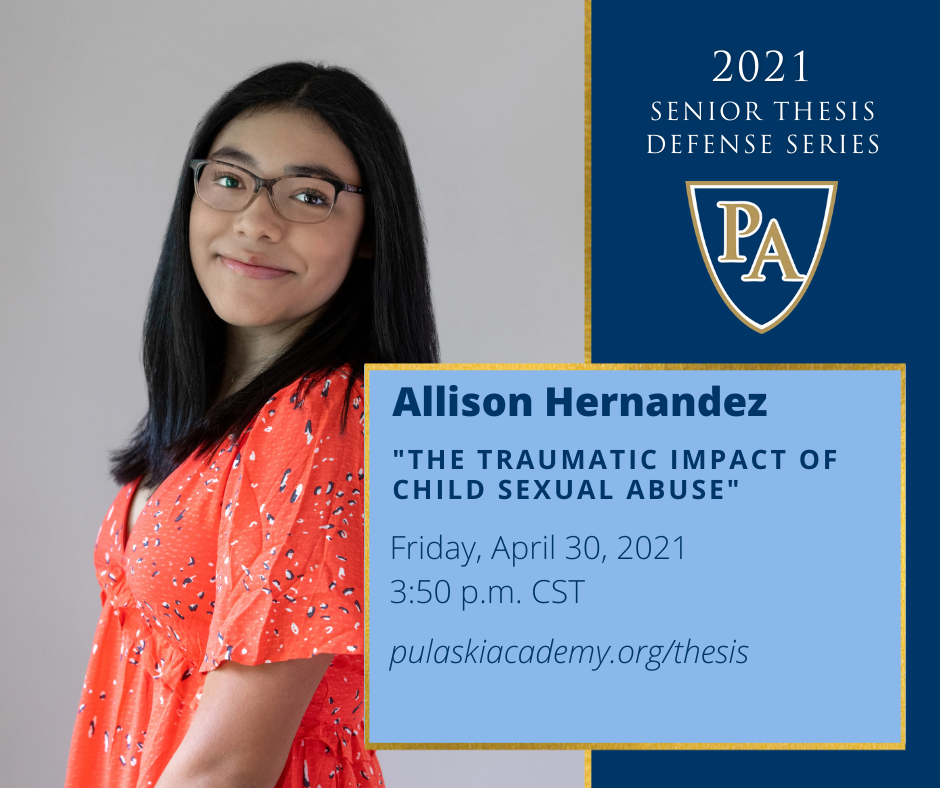 3:50 p.m. CST – Allison Hernandez, "The Traumatic Impact of Child Sexual Abuse"
Monday, May 3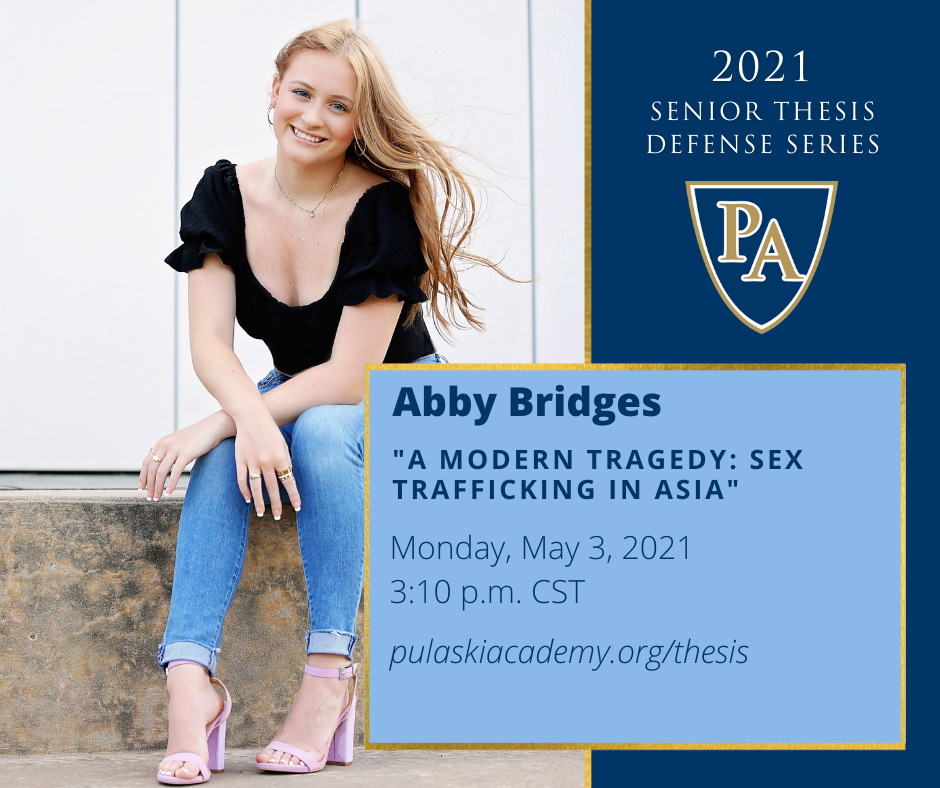 3:10 p.m. CST – Abby Bridges, "A Modern Tragedy: Sex Trafficking in Asia"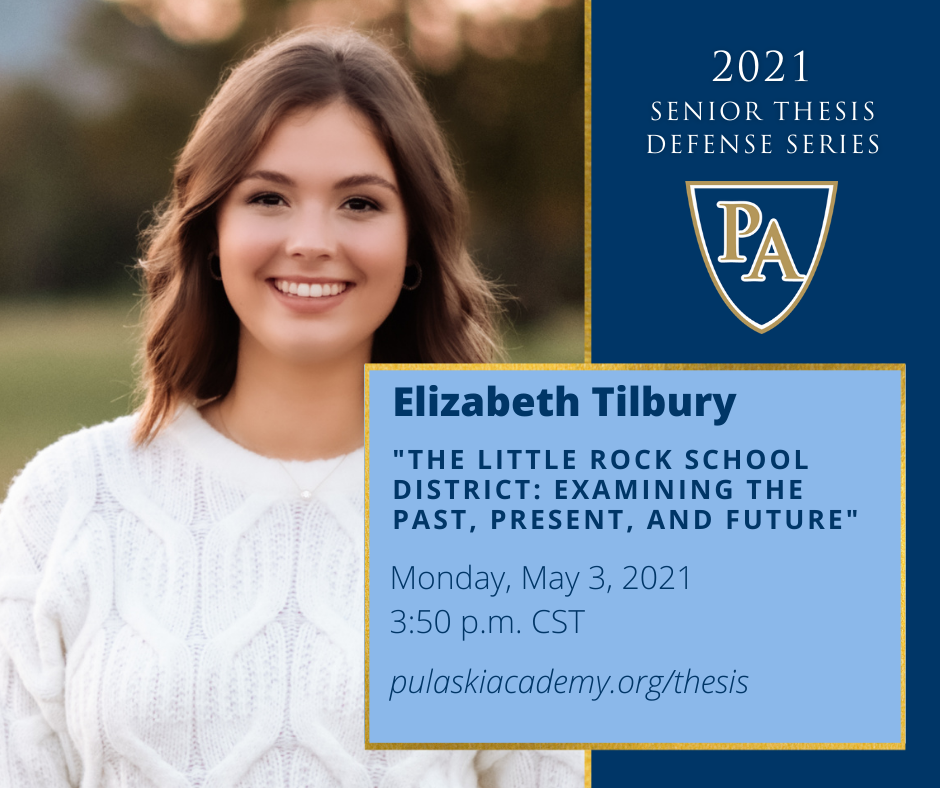 3:50 p.m. CST – Elizabeth Tilbury, "The Little Rock School District: Examining the Past, Present, and Future"
Tuesday, May 4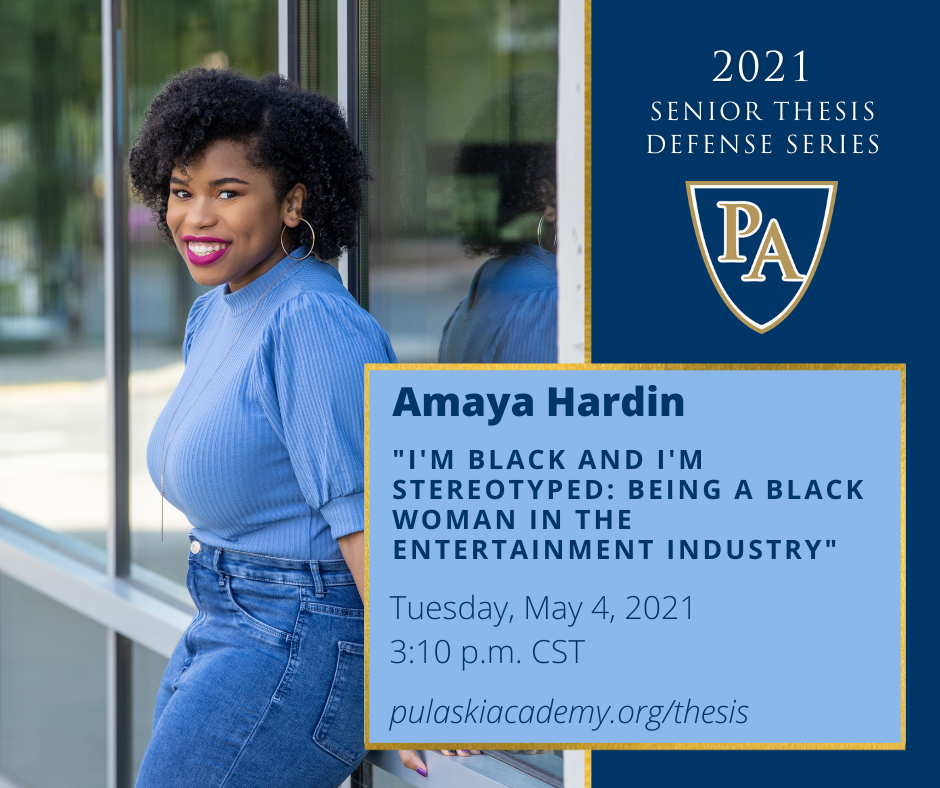 3:10 p.m. CST – Amaya Hardin, "I'm Black and I'm Stereotyped: Being a Black Woman in the Entertainment Industry"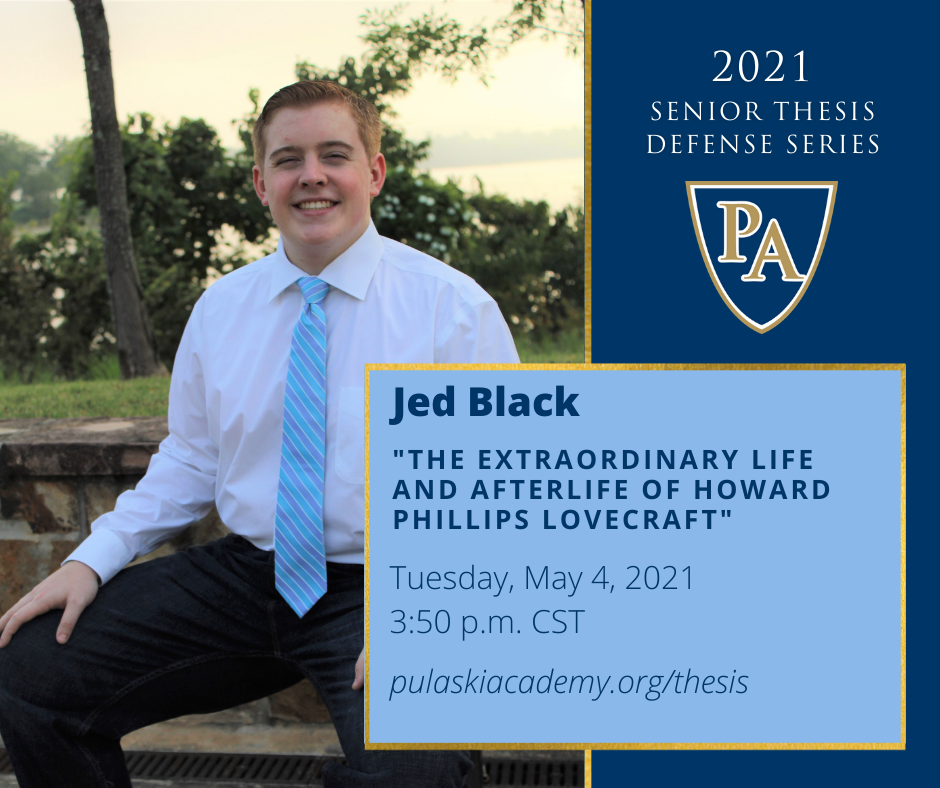 3:50 p.m. CST – Jed Black, "The Extraordinary Life and Afterlife of Howard Phillips Lovecraft"